I couldn't believe what the girls had been up to! I was quite touched by what they were doing. Let me start from the beginning …
I awoke from my bed on the West Pier and wanted to head on over to Brighton Palace Pier to check out the arcades and to see what was going down It was early morning so I picked up my I-pod and headphones and started my flight over the water.
Boy, it was cold! I only got halfway across when my feathers started to seize up. Nipping back to the crib I picked up a scarf and a woolly hat but that still wasn't enough to keep me warm. By the time I got to Brighton Palace Pier I looked like a snowman! It wasn't a problem though, as Brighton Palace Pier serves exceptional hot chocolate!
By the time I'd warmed up, and played a few games on the arcade machines I had started to wonder where the girls were. I checked Palm Court and Horatio's Bar but I couldn't see them anywhere. They must be in Victoria's Bar, I thought, but when I arrived there was no sign of them.
I flew up above the Dome and above the Palace of Fun but couldn't see them anywhere. Eventually my eyes caught something moving on top of The Helter Skelter. Feathers were ruffling and all the girls were stood in a circle, all busy and bustling away at something.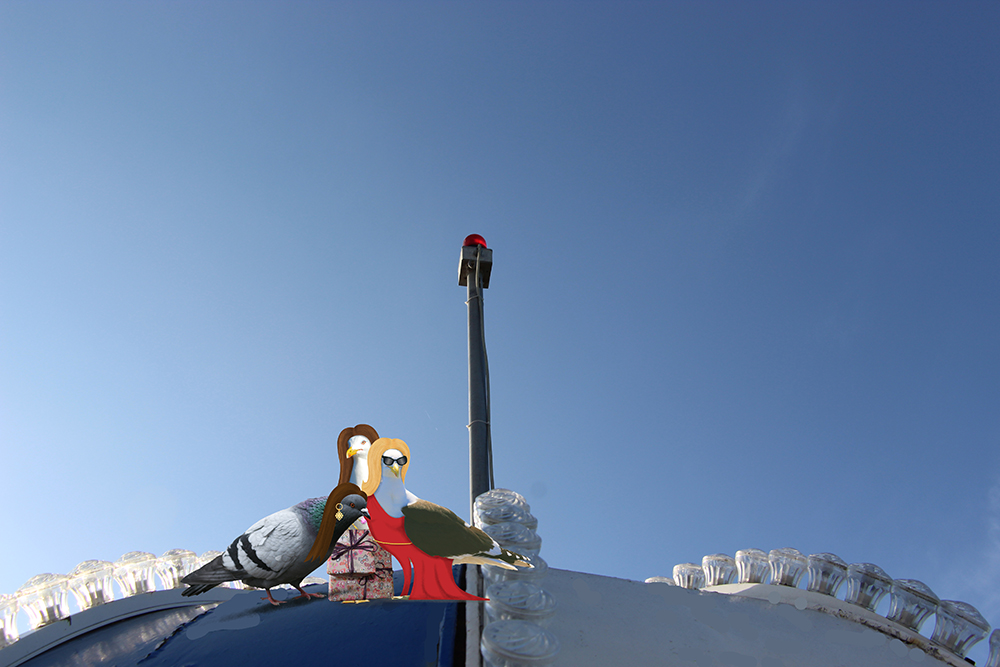 I flew down and it was Samantha who caught me first.
"He's found us! Oh no, he's found us!" Samantha shrieked.
"Can't we have any privacy!" Katrina yelled, dramatically putting her feathers against her forehead.
"What's going on?" I asked.
"We're making you your Christmas presents!" Shrieked Giselle. "But you've ruined the surprise! … I was making you a Cup and Ball Santa! It's something you will be able to have a lot of fun with!"
"And I was making you this lovely and enchanting wooden spoon Santa! Katrina shrieked, "Which in my opinion is the best present of them all, because you can decorate your house with it!"
Samantha fluttered her eyes.
"And I, my darling, was making you this Button Wreath, so that you can hang it over you, as you sleep!"
"Well," I began, obviously touched by the effort. "I don't know what to say. All I can say is thank you!"
The girls all beamed with happiness. There had been a lot of effort put into making these gifts but, selfishly, I couldn't help thinking that I wanted something a little bit more special for my Christmas present. What was I to do? Luckily, I'd recently heard about an exciting new event coming to the Pier.
"You could probably sell these at the Christmas Market on Brighton Palace Pier."
"Christmas Market?" Katrina shrieked. "What Christmas Market?!"
"There's going to be a Christmas Market on Brighton Palace Pier on the 2nd and 3rd of December! There will be food and drink, hand-crafted gifts, live music and Father Christmas in his grotto!"
"The real Father Christmas?" Giselle asked.
"Yes, the REAL Father Christmas," I replied.
"That's great!" Giselle replied. "We'll be able to buy you some Christmas gifts …Um … I mean, we can get some ideas on making you Christmas gifts!"
I had an idea that I was going to receive some great Christmas presents this year … hand made by the Gulldashians, obviously!
Loading Conversation