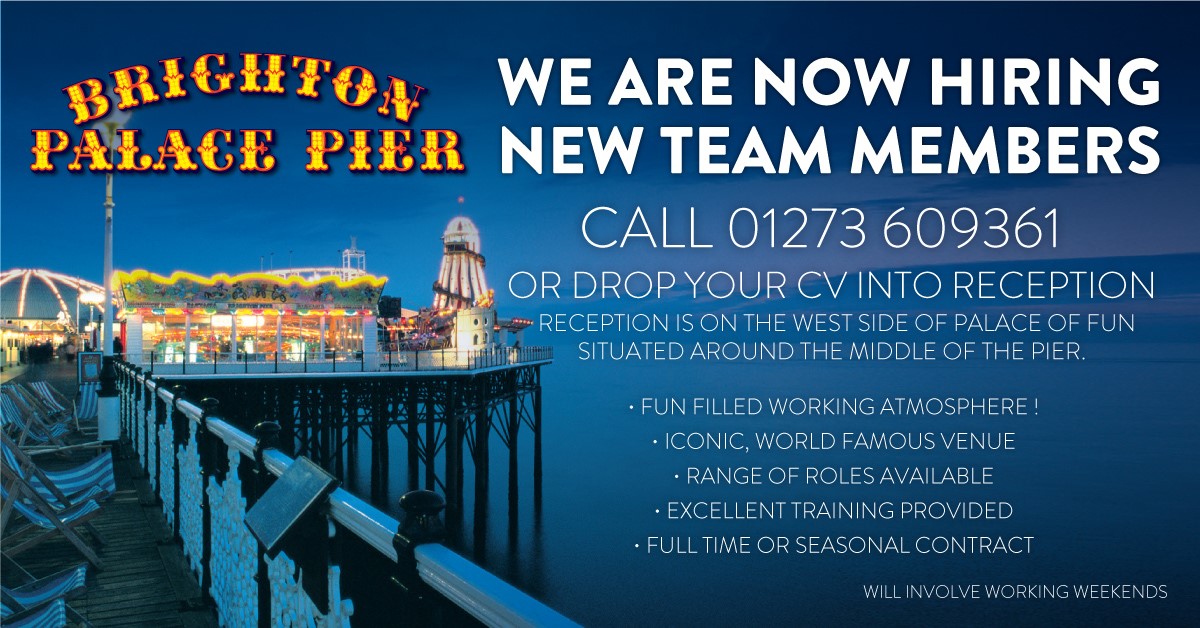 Come and join us as part of our team on Brighton Palace Pier! We've currently looking for hard-working, fun and friendly people! Benefits include a half-price discount on food and full training will be provided!
Our open positions:
Retail Catering Staff (Involves cooking food such as crepes, doughnuts, ice-cream, etc.)
Restaurant Waiting Staff
Restaurant Bar Staff
Restaurant Kitchen Staff
Restaurant Night Cleaner
Arcade Floor Assistant
General Cleaner
Our main requirements are that you:
Must be able to work full time
Must be available to work bank-holidays and weekends
Must be able to work from now until the 9th of September
If you are interested in any of our positions, or simply wish to enquire if there are any roles available, then please forward your CV to Recruitment@brightonpalacepier.co.uk.
---
Please note that all information gathered during the selection process will be added to your application file. We are often inundated with applicants and so if you are not ultimately successful in your application and not contacted all details you have provided will be stored on site on encrypted computer for a period of three weeks and then destroyed. At no point in the application and interview process will your information be shared with any third parties and you have the right to withdraw your application at any point by emailing us at recruitment@BrightonPalacePier.co.uk in which case your details will be deleted from our records. We will only keep a record of your request and the date the information was deleted for three months after the request.
Applicants notified of interview, if you are ultimately unsuccessful your details will be kept along with your regret letter for a period of three months.